20 Tourist Destinations That Aren't Worth Your Time
When you're going on vacation, you usually have a list of places you want to see. More often than not, those places are tourist destinations that every website recommends as the "top" attraction for the city. The thing about that is that everyone will do the same thing and visit the same location. That fun tourist destination turns into an overcrowded, overpriced journey where you probably won't have half as much fun as you want.
For example, you've probably been told that you have to kiss the Blarney Stone if you ever visit Ireland. We're here to tell you that any vision you may have of the Blarney Stone is probably wrong. It's nothing more than a wall people lean backward and kiss. If you think about the millions of people that have visited the castle to get their smooch on, you may not want to put your lips on the smooth surface – by the way, it's only smooth because so many people have rubbed their lips against the stone. Instead, you can visit another place, but we'll leave that for later.
Unless you want to go there just to say you've been, we're going to recommend that it's best to avoid them altogether. Instead, we're listing attractions that are actually worth visiting. Most of these places are far less crowded and give you the experience you're looking for. 
Unless it's New Year's Eve, there's really no reason to hang out in Times Square. It's overcrowded, under constant construction, filled with mascots begging you to pay them for a picture, and lined with overpriced chain restaurants.
New York: Don't See Times Square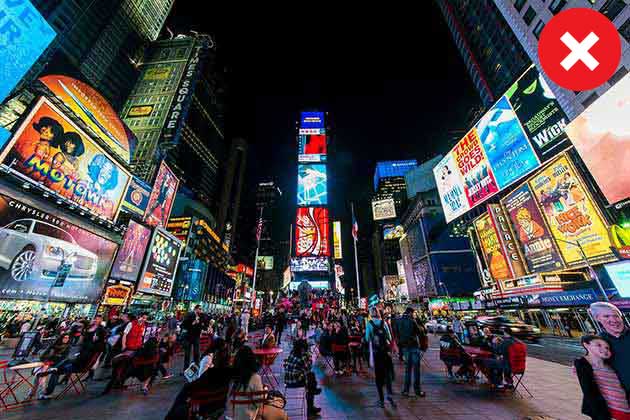 Times Square is easily the biggest waste of time when there are so many other things to see in New York. If you simply must see times Square, wait till you can go at New Year's when there is actually something worth doing there - that is if you can handle the crowds. Otherwise, you might want to consider this better activity...
ADVERTISEMENT
ADVERTISEMENT
ADVERTISEMENT
ADVERTISEMENT
ADVERTISEMENT
ADVERTISEMENT
ADVERTISEMENT
ADVERTISEMENT
Did you know...
Taking a vacation is good for your health! Studies have shown that a vacation can help to lower your risk of heart disease. It's also a proven way to improve your creativity. So if you have some writer's block or need to lower your stress, grab a friend and go on an adventure!
Minnesota might say that it's the "Land of 10,000 Lakes," but Canada has it beat. The country as a whole has over three million lakes. That means Canada has 60% of the world's total number of lakes within its borders. It must seem like paradise for people who like to fish or boat!
You've heard of the phrase "wanderlust," but do you know the German word "fernweh"? It means "far sickness" or an intensely strong urge to travel. The next time you feel the need to head out on a road trip, you've got a case of fernweh. And the only cure is to travel somewhere new!
The longest flight in the world is between Singapore and Newark, New Jersey. Depending on which way you're flying, it takes around 18.5 hours to complete the 9,534 miles of the journey. The flight is so long that it doesn't even have an economy class. Only first-class and business-class arrangements are offered.
Jet lag is worse when you're traveling from west to east. That's because the changes in time zones become not only more physically apparent on your body, but they are also more culturally apparent. If restaurants close at 10pm on the East Coast, you'll just be getting hungry since it will feel like 7pm on your West Coast-adjusted body.